One of the home essentials is a juicer machine, that can turn the solid into liquid within no time. You cannot eat all the big veggies and fruits in just one sitting, but you can have them squeezed in just one glass with the help of a slow juicer machine.
Having said that, the slow juicers are less of a centrifugal juicer, which means that produce is less intact with the air. This keeps the nutrition in place. Moreover, the slow juicers like Aicok, are often budget-friendly as well.
With that aside, there are a number of leading brands of juicers that have the best of products, such as Omega and Champion. But we are going to discuss the best-reviewed product of this year from the manufacturers of Aicok, the Aicok slow masticating juicer extractor.
So without any further ado, let's just get straight into it: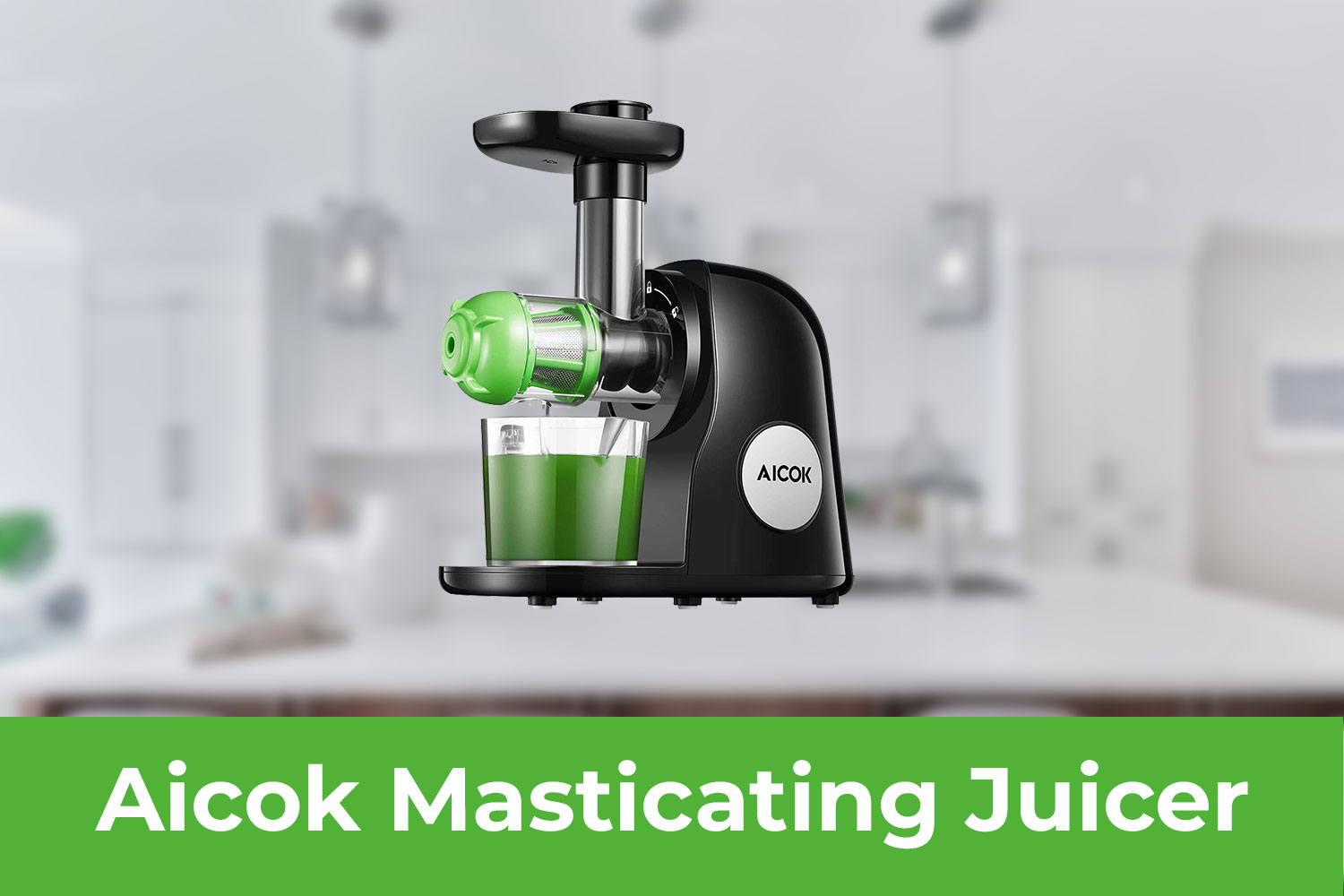 Aicok Slow Masticating Juicer Extractor
Here we have the most widely used masticating juicer of this year, the Aicok slow juicer extractor. It has a small and space-saving design that favorably sits on your countertop. Besides, it looks cool because of its different and unique design. Adding to this, it shows up with a number of removable pieces that not only help in versatile juicing experience but also make the cleanup easier. On the downside, it is difficult to set it up all at once, and especially if you are using it for the first time. But other than that, this juicer is all that you need to have in your home, in order to get the healthiest of drinks regularly.
With that being said, let's check out the most interesting features of this slow masticating juicer, in order to have a better know-how of the product:
Important Features You Need to Know:
Starting with the bunch of its removable parts, it shows up with a chute that fixes in the machine with a click. Inside that, you have to fix the blade that cuts things two. Follow it with a filter that keeps the pulp, and cover it with the end cap. And you are ready to go!
The power button is at the back of the juicer, which gives three different options, including on, off, and a reverse button. The reverse button is used when the juicer seems to be jamming. With this button, you can simply reverse the movement of the blade, and get back to normal juicing.
Another thing to point out here is that this is a much easier juicer to clean than the other high-end juicers. All of its components just get removed very easily and you can take every pinch of the produce out of it.
Having said that, it doesn't work well with soft vegetables and fruits. The heavy-duty blade does not take the load of the soft, crispy produce and get the juice out of them. Hence you gotta look for something else in this regard.
Last but not the least, the seven-spiral segment system efficiently breaks the fruits and veggies into pieces. So those who don't like chewing vegetables can simply have this juicer to make it easier for them.
The 7-Segment Spiral System

Best Masticating Juicer For Celery

Super-Quiet Operation With A Sound Of About 60 DB

Extracts Various Veggies And Fruits

BPA-Free Manufacturing Material
It Doesn't Work Well With Soft Veggies And Fruits

The Green Cap Might Pop Off While Juicing

It Takes A Bit Longer To Juice
Final Views:
So this was all about the Aicok masticating juicer machine that is best overall. The super-smart construction, with a space-saving design, and versatile options, are wrapped up in an affordable price tag, that suits almost every budget. So you better not miss out on a chance of getting this impeccable machine in the first place.